Country-by-Country Reporting Software Tool

Country-by-Country Reporting Software Tool
The Country-by-Country Reporting (CbCR) Software Tool creates a BEPS Action 13 CbCR in the XML format according to specifications of the OECD and affiliated countries. Additional Ratio analysis can be done to identify risks that need extra attention or clarification in Table 3
Are you in need of a tool for generating beps action 13 country-by-country reporting in the xml format according to the specifications of the OECD?  TPGenie is here to help you!
TPGenie is a user-friendly tool for generating your BEPS Action 13 Country-by-Country reporting in the XML format according to specifications of the OECD and affiliated countries. It is a proven* solution for converting Excel to CbCR XML schema and comes with many features to gather CbC data across your group entities, sanitize the data and perform risk analysis to reduce the risk on additional audits by tax authorities.
You can easily upload your Table 1, Table 2 and Table 3 data into the tool by uploading an Excel file or gather the data from your local entities by an easy survey workflow. The tool has a useful dashboard which provides information on issues and warnings related to the data.
The CbCR tool performs sanity checks on the data and with one click of a button it is compiled into the correct XML format according to the specifications of the OECD and your reporting country / countries.
The software can be used by:
Multinational enterprise groups;
Law firms;
Tax advisors;
Accounting companies.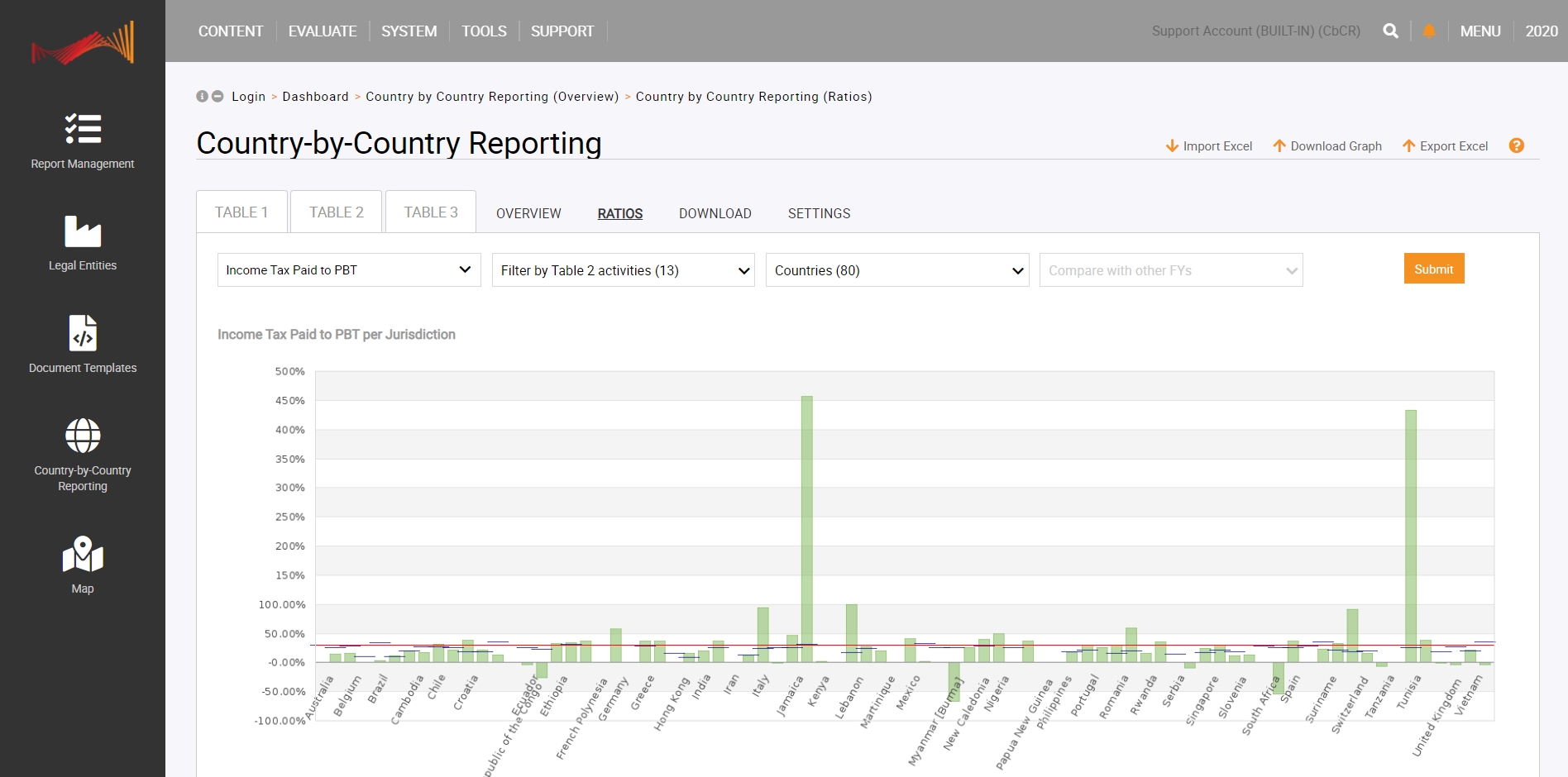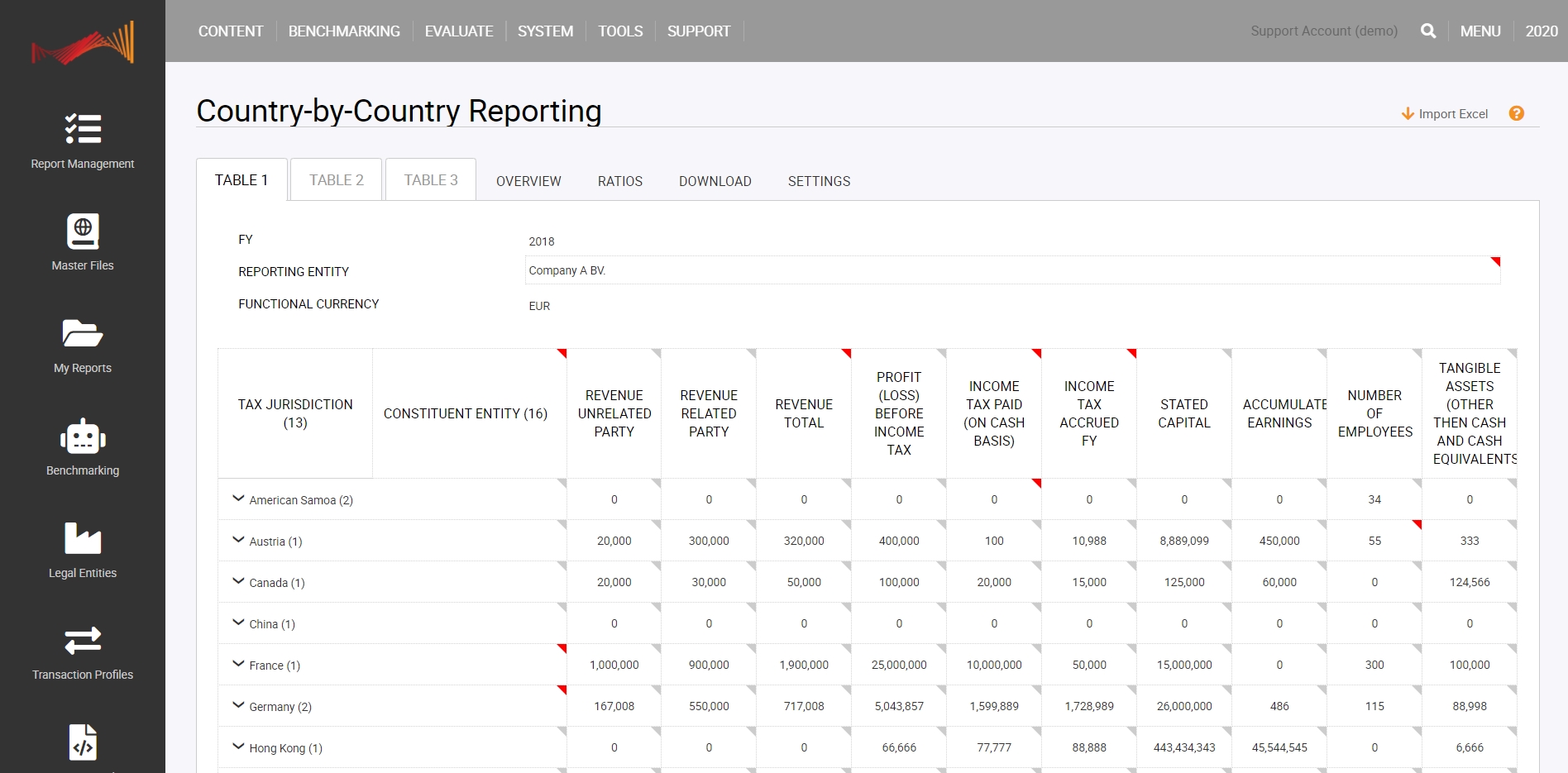 Features
Import your Country-by-Country Reporting information simply by centrally uploading an Excel file or by delegating the input to your local entities via an intelligent CbCR Survey workflow.
Free re-filings of CbCR corrections.
The tool has an indispensable and intelligent overview section in which you are able to make corrections and fix issues related to the uploaded country data. In this manner you can secure the quality and integrity of the data before being sent to the tax authorities.
Visualisation of Table 3 tagging: Table 3 additional information can easily be tagged to certain Table 1 and Table 2 fields (jurisdiction, financial fields, entity info) using an Excel-like note system.
Risk analysis by automatic calculation and visualisation of tax ratios. Different key performance indicators (KPI) and graphs show you which jurisdictions need extra attention or clarification in Table 3. Comparison of multiple FYs and Public CbC features are included.
Automatic currency conversion: upload local amounts and automatically convert to the reporting entity's functional currency.
Export your Table 1, 2, 3 data to Excel for further analysis.
Generation of OECD compliant- and country-specific XML formats. Many countries have implemented slight deviations in the XML format. The tool manages these deviations so you don't have to worry about the format.
With our CbCR services we can do the data gathering and filing for you.
Why using TPGenie?
The Country-by-Country Software Tool is part of TPGenie, which is all-in-One Transfer Pricing Compliance Software. Below you find the key features of TPGenie:
Create & Manage fully OECD compliant documentation;
Having all your data centrally available in the cloud. In case of an audit you will have all necessary data available within one click of a button;
TPGenie was built in order to reduce the time you spend locally on documentation preparation and to make it easier for you to meet the OECD compliance obligation;
Powerful document management and workflow;
No extensive knowledge of Country-by-Country reporting required and no need for expensive external consultants anymore. Once set up, you can manage your CbCR yourself. Therefore reducing the costs significantly;
Easy incorporation of your existing documentation & data;
Risk Management and -control;
Extensive help functionality, intuitive and easy to maintain;
Outstanding support from our experienced transfer pricing & tech experts;
TPGenie is a highly secured cloud hosted SaaS solution. Easy to incorporate in your IT architecture with options for using Single Sign ON (SSO) using SAML 2.0 or two factor authentication.
* As of September 2017 the tool is used to create CbCR reports for hundreds of multinational companies (including those processed by leading advisory companies) which successfully submitted in many countries as The Netherlands, United Kingdom, Germany, Italy, Luxembourg, Switzerland, Cayman Islands, Bermuda, United States and many more.
Intra Pricing Solutions
Your guide in the world of Transfer Pricing
Herengracht 30
1015 BL, Amsterdam