TPGenie Business
Transfer Pricing documentation software for tax advisors
10 users
Unlimited entities and countries
Client management dashboard
Free country references
TP Calendar and notifications
Work together with your TP team to create and manage Transfer Pricing documentation for your clients.
TPGenie Business is transfer pricing documentation software for tax advisors. It is specially designed to accommodate the needs of transfer pricing services providers such as independent transfer pricing specialists, trusts, consultants and accountants. It is an easy to use web-based transfer pricing documentation and management suite. This genius solution helps you and your team to efficiently create, manage and update compliant transfer pricing documentation for your clients, including Local File, Master File and Country-by-Country Reporting.
TPGenie Business: Transfer Pricing documentation software for tax advisors
Create & manage fully compliant TP documentation for your clients.
Document management and workflow. It is easy to share and delegate documents and tasks with your colleagues or your clients using the incorporated status & messaging system.
Audit trail enables you to track any changes made by you and your colleagues, review it and accept it or reject it.
Easy integration of your existing corporate style documents and best practices (text) libraries, eliminating the need for copy/paste from older documents that may lead to mistakes.
Dynamic text templates: you are not limited to a static format which generates hundreds of pages. You can create your own template up to your needs and even whitelabel the software and documentation.
Pixel perfect document formatting to create reports that match your branding and styles.
Intuitive and easy to use – even junior consultants can achieve the same quality of deliverables as expected from more experienced professionals such as senior managers and partners.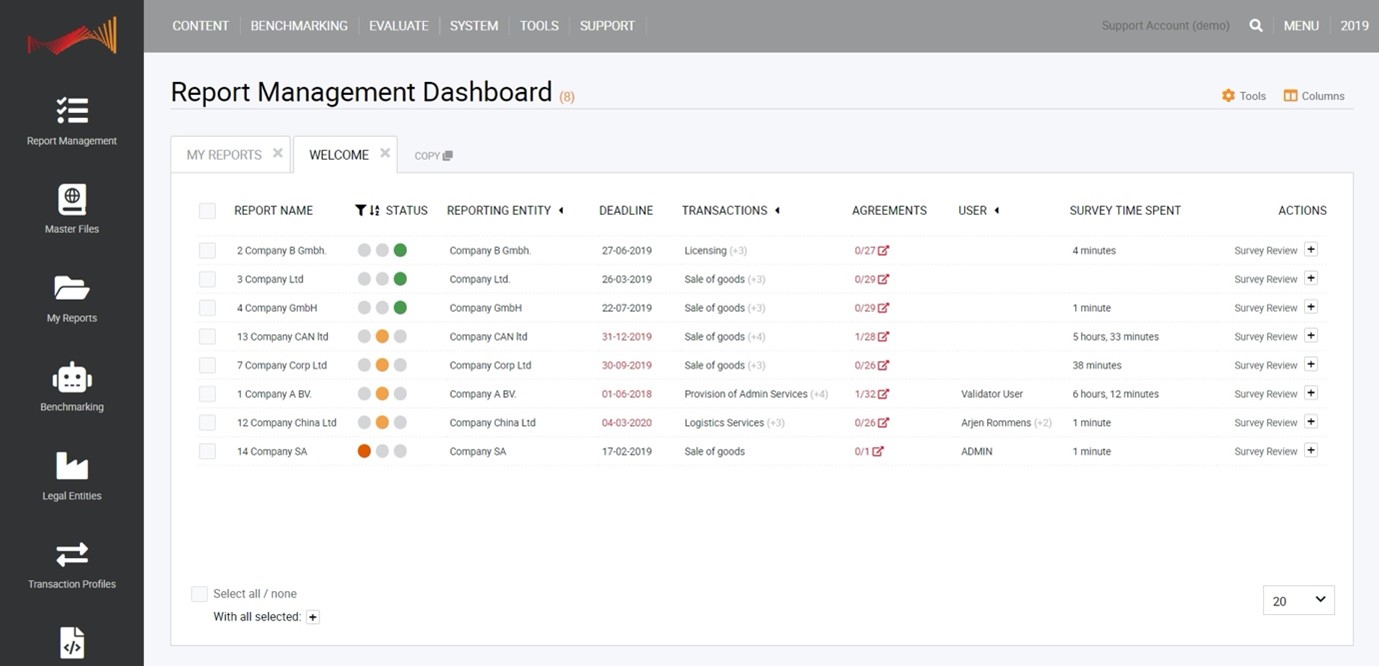 Benchmarking database
Additionally, a Benchmarking module could be added. The benchmarking module enables you to perform high quality benchmarking studies in a few easy steps. It simplifies transfer pricing analyses, including profit and transaction-based analyses. The results can be directly included in your Local File. All underlying comparable companies or agreements were thoroughly checked by our experts, so you do not have to perform this labor intensive exercise.
Partner Program
As a tax advisor or independant transfer pricing specialist, you can become a TPGenie partner. You will immediately gain access to software, education, and marketing support – not to mention the value you can pass on to your clients. We'll help you grow to earn even more.
The TPGenie partner program rewards you with a range of benefits that you can tailor to your own practice goals. We've created it to make you even more successful – no matter what success means to you. 
Benchmarking Database
The Benchmarking Database takes the complicated process of performing an economic analysis off your hands: it provides high quality benchmarking studies in few easy steps. It simplifies transfer pricing analyses, including profit and transaction-based analyses.
Country-by-Country Reporting (CbCR) Tool
CbCR Tool creates BEPS Action 13 Country-by-Country reporting in the XML format according to specifications of the OECD and affiliated countries. Additional Ratio analysis can be done to identify risks that need extra attention or clarification in Table 3.
Intercompany Agreements database
Intercompany agreement management repository that provides numerous of functionalities for managing your intercompany agreements. Easily show all missing agreements and map potential available agreements automatically.
Legal Entity Management
The Legal Entity Management Module is an easy to use cloud solution that enables you to manage your legal entity governance and compliance in TPGenie.
Currency Conversion Module
This module provides an ability to change financials uploaded in a local amount to transaction amount and vice versa as well as visualise the amounts in a currency of choice for a better comparison of the data.
Intra Pricing Solutions
Your guide in the world of Transfer Pricing
Herengracht 30
1015 BL, Amsterdam