Create Intercompany Agreements

Create and manage Intercompany Agreements
The Intercompany Agreement Creation Module provides you with the ability to easily create agreements in a clear and efficient manner as well as boost efficiency by automating (digital) signatures and approvals.
Multinationals are obliged to possess Intercompany Agreements (ICAs) for each type of transaction. The ICAs can serve as a supporting document to transfer pricing documentation and the tax position of Taxpayer against Tax authorities globally.
TPGenie Intercompany agreements software provides you with the ability to easily create and manage ICAs in a clear and efficient manner.
We can finalize over 70 IC agreements and get complete signatures in less than a week! Therefore, we will continue using the TPGenie Agreement Creation Module for such purpose.
TPGenie Intercompany agreements software
The software tool consists of an easy to use library where you can manage your intercompany agreements and an extensive creation tool where your legal department and lawyers can co-work on the creation of contracts. There is even the possibility for digital signing the contracts to speed up the process and not having the hassle of printing, scanning and re-uploading the files.
The Inter-company agreements module consists of the following functionality:
Workflow: Creation of agreements and contracts including a wide variety of permissions for validating or rejecting and signing the agreements.
A library containing all your Intercompany Agreements.
A dashboard displaying the overview of all available agreements. Agreements can be uploaded and validated on a central level: You can allow access to this dashboard to the pre-selected users, for example your legal department. The users who have access to this module could be responsible for reviewing and/or validating the agreements.
Digital signatures and possibility of integration with Adobe Sign.
Integration with the local file survey where relevant agreements can be selected from the library or uploaded by the local user.
Generation of the final output package of all documents relevant to Local file, where ICAs are matched to relevant transactions.
Free templates included such as "Logistics Services agreement", "Financial Transaction agreement" and "Trademark license agreement".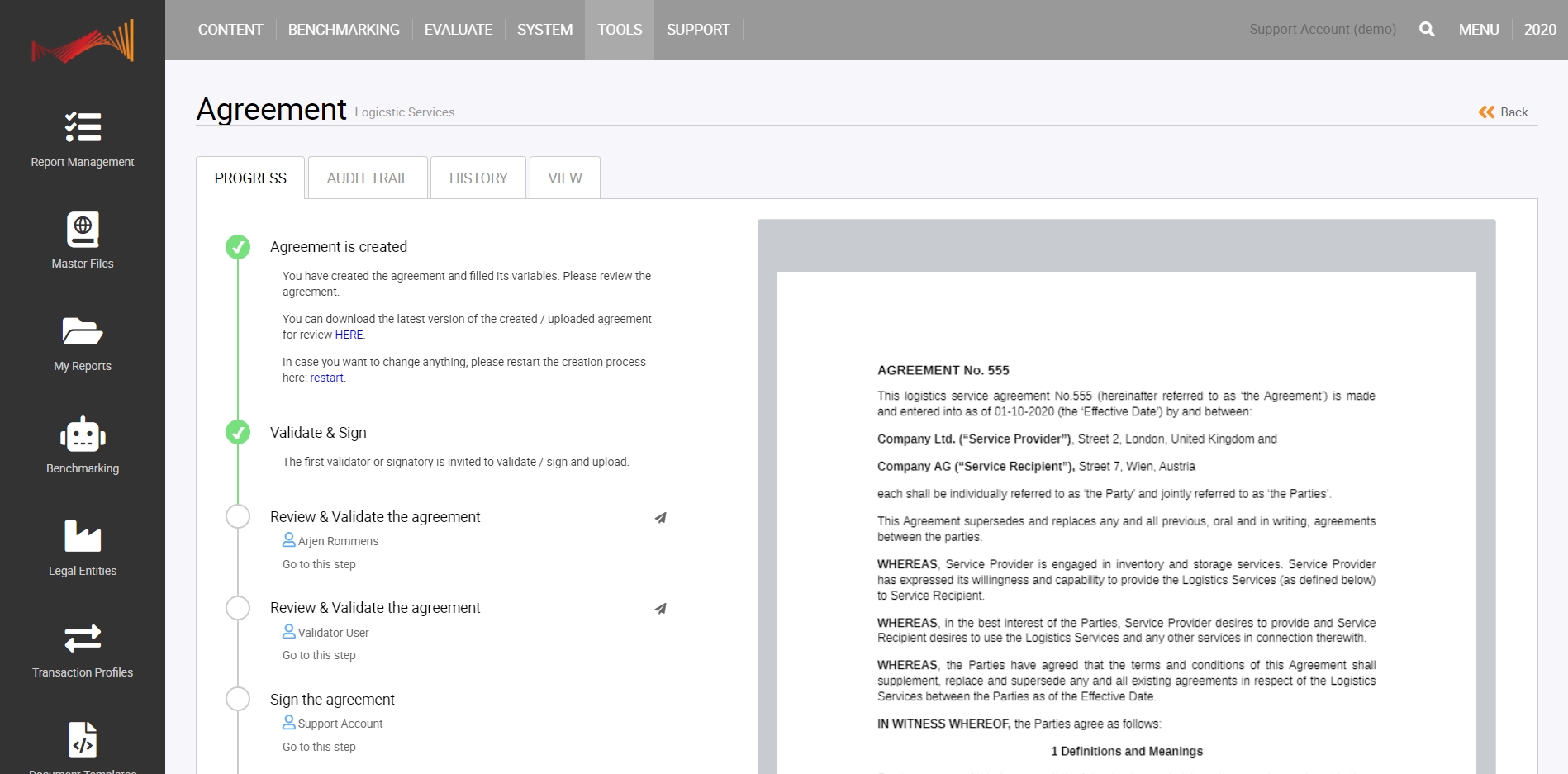 How does the intercompany agreement software work?
The agreement's framework is defined on a central level by utilising predefined templates containing legal markup notation such as variables and conditions. The variables could be a legal party, a signatory, an agreement date or just a number (e.g. sales price) or percentage (e.g. interest rate), etc. Creating a template is as easy as using Excel or Word.
Creation of agreements could take place on a global level (ie. by your legal team) or at local level, where local users are guided through a step process to complete their agreements. Once all conditions are validated and signatories have signed the agreement, it will be uploaded it into the Intercompany Agreements Database. The agreement is then available to be used in local file documentation.
If we need to create many IC agreements in a short time, we use TPGenie which has been integrated with AdobeSign.
This is proven to be very efficient!
Intra Pricing Solutions
Your guide in the world of Transfer Pricing
Herengracht 30
1015 BL, Amsterdam